Alma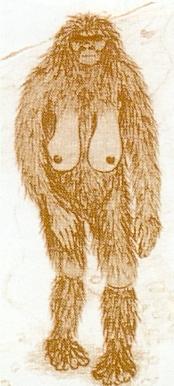 1. Grouping
Edit
Hominid
2. First reported

Edit
In 1958 by Professor Porchnev who requested an expedition.
3. Country

Edit
Afghanistan, Pakistan
4. Region

Edit
Northeast Afghanistan, Chitral, Gilgit and Northern Areas of Pakistan
5. Habitat

Edit
Mountains
6. Physiology
Edit
The Barmanou is a bipedal humanoid primate. It's said to live in the mountainous regions of Afghanistan and Pakistan. It has been sighted mainly from local shepherds as the areas it supposedly resides is quite isolated with few established villages due to the rough terrain.
The Barmanou is a term recognized in several languages including Khowar, Shina, Hindko, and Kashmiri The range of this creature is in the Hindukush and Karakoram ranges. Between the Pamirs and the Himalaya, meaning that the creature is also in range of two other cryptids: The Alma and the Yeti.

It's alleged to possess both human and apelike qualities. Supposedly it stands 6 to 7 feet tall and is covered in red fur. It has been reported to abduct women and attempt mating with them. The Barmanou is also reported to wear animal skins on it's back and head. It also gives a horrid smell akin to excrement or sewage. When described in stories it's usually described as an ape or "Wild Man".
7. History
Edit
The Laghar People
Edit
Wali is in the upper and lower Dir and Swat District situated 35° North Latitude and 72° and 30° East Longitude. Wali stated that they are not wild people and they have been known to the local population till 1932.
They worship pre-historic religions and wear garment consisting of two very small sheets of unhemmed cloth, and that is why they would be known as lagahr people (means the naked one). In 1931, the ruler of the princely state of Swat Wale-e-Swat Miangul Golshahzada Abdul-Wadud Badshah Sahib signed an agreement with the laghar people and a demarcation of an area latter known as the Pat-Rak area. Pat-rak means" the place where stones were lead"; it was the place of the demarcation between the lands of the Prince and the laghar people. The agreement was that no member of the laghar people will come to prince's state side as: "laghar women makes our (Swat's) women un-pure and due to your (laghar's) women our women become/tented to vulgarity. No person from our side will come to your side, you are free in your own land, with your own law. The laghar people are free to nominate their own Sardar (king)."
The situation took a bad turn in 1932 when the entire laghar population came under epic diseases and there was a big death toll. The laghar people never asked the Swat Prince for help, it is believed that the entire population has vanished. When the prince knew about the situation on the other side of the border(beyond Pat-Rak) he was very upset with the situation and sent many teams of doctors but they did not find a single laghar person, the entire villages of laghar people were deserted. It is said that few fragments from that population still exists today.
As They follow centuries old traditions to honour the agreements therefore even after 80 years they are still unknown. These people adapt themselves to the Jungle environment. As they are so culturally different from the local Dir / Swat societies the Swat and Dir people make laghar people seem non-human, even though they are. The laghar people live in the alpine climate. laghar people supposedly live at high elevation. Where the plant community and alpine tundra grow together. It is also said that the laghar people live in the alpine climates or above alpine climates, but at night and specially during the winter months they move down to lower altitudes probably to find food.
Expeditions
Edit
In 1958 upon the insistent requests addressed by Professor Porchnev to the Praesidium of the Soviet Academy of Science. In addition to this report, there are eight "Data Books" on the subject, in Russian, also compiled by the Commission. The latter had two main objectives. The first was to gather a maximum amount of information, collected on Soviet soil and near Soviet frontiers, and the second was to organize an expedition to Pamir to find witnesses, and possibly one of the beings concerned. The expedition took place in 1958, with the participation of several groups of research scientists, including zoologists, theologians and archaeologists. Unfortunately, the expedition which was not directed by Porchnev, wound up in a number of sub-expeditions, each of them focused on a participation group study, bearing no relation to the initial subject. In January 1959, the Praesidium decided not to renew the expedition.
Spanish zoologist Jordi Magraner interviewed 29 witness who reported 31 sightings of the Barmanou. He created sketches from the accounts and even collected casts of footprints. He even heard grunts that could have been made by "a primitive primate voice box." Sadly, an unknown person murder Jordi and his 12 year old Servant boy at Bumburet on August 2, 2002. Less than a month before he was to return with his findings. The police spread false rumors that he was a spy for the Taliban. Another rumor that was unexplained claimed that he was murdered by a Taliban extremist. The killer has still never been caught and it's been assumed his guide killed him.

In 2010, a team from the University of Peshawar was dispatced to Ansoo Lake to help promote and educate people about the area. This was done in order to increase tourism. The team consisted of students from the Peshawar Business School and funded by the Pakistan Government They were directly monitored and directed by the Wild Life Pakistan and Pakistani Secretariat. The leaders of this team include Dr. Saab in Naran, Dir, and Chital district, Mr. Muhammad Javaid, Mr. Seyaf Fasal, and 20 year old local guide Mr. Muhammad Idress. The high altitude journeys were led by a local team guide; Mr. Tahir from Naran. The team charted various paths to Ansoo Lake and the benefits the trails would bring. They added descriptions of length, toughness of camping, and weather conditions. They were also asked to collect evidence of unknown humanoid if found. The team on one occasion strongly denied this, and expressed it as disinformation. They even denied their scientific purposes and the funding by the government. Saying they were just friends and common tourists. Later they even denied their travel to Ansoo Lake. The media however, with help from locals exposed pictures of the team posing near the lake at high altitudes.

June 25, 2011
During the Kaghan festival at a private gathering the team members and Dr. Wali Ullah Khan was overheard saying "We don't know how many species of human primate are out there, but according to our knowledge and search there are 4 types of wildmen population in Pakistan."
Sightings
Edit
In 1987, a Sheppard by the name of Lal Khan, living in Pakistan, claims to have been witness to a Barmanu. In 1995, after an Unsolved Mysteries segment on the Minnesota Iceman, Loren Coleman, a consultant for that episode, was contacted by Pakistanis who claimed to know where the body of a similar creature was buried. Even though the informants did not respond to follow up communications, it is interesting because the link to Pakistan and the Barmanu was not mentioned in the broadcast. In late 2007, Loren Coleman made a shipment of several field guides and other books to US troops stationed in an area of Afghanistan known for some unusual hominid activity. Although nothing substancial has come from this to date, Loren Coleman did receive a response email from a Mark Langenkamp who at the time was stationed somewhere in Eastern Afghanistan. He writes: "I got your book in the mail today! Thank you again for sending it. When I am done reading it, I will leave it here at the front, in the small library that we have of used books. I'll put your contact information in the front cover so even after I'm gone, you can be notified should our "Barmanu" be seen. Lately, we've been shooting a lot of artillery here. I doubt the Barmanu like that too much. At least, I've not heard of anything resembling Barmanu coming in close to investigate the thunderous sound makers. I'll keep in touch from time to time to report what I have or have not seen. Right now, however, I've got a book to read!"
8. Evidence
Edit
Mostly eyewitness accounts and personal experience duing several expeditions this is all we have on the Barmanu. No physical evidence has been returned from these journeys.
9. Possibiltiy of Existence
Edit
2. Somewhat improbable
10. Sources
Edit
Unknown Explorers
Barmanou From Wikipedia
American Monsters BARMANU: (AFGHANISTAN – PAKISTAN)
Hidden Animals: A Field Guide to Batsquatch, Chupacabra, and Other Elusive Creatures: page 57
Oral Statements Concernign Living Unknown Hominids: Analysis, Cristicism, and Implications for Language Origins By Jordi Magraner
11. Links
Edit
Community content is available under
CC-BY-SA
unless otherwise noted.