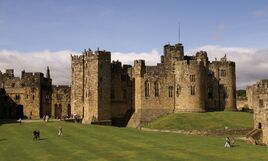 1. Supposed Region of Existence
[
]
Alnwick Castle, Northumberland, England, United Kingdom
2. Physiology
[
]
It is the residence of the Duke of Northumberland, built following the Norman conquest, it has been renovated and remodelled a number of times. It is a Grade I listed building.
As for the vampire, no real description has been given other than they appear to have a hunchback and roam the grounds at night.
3. History
[
]
Alnwick Castle was built around the beginning of the 9th century, but had apparently been home to a vampire before Yves de Vescy became Baron of Alnwick. He asked about the castle, he was told that a former lord of the estate allegedly lived underground and emerged only at night to attack villagers.
It was near this time a plague was spreading through the town. And the townsfolk attributed the cause to this vampire of Alnwick. The vampire was apparently a man who had caught his wife being unfaithful. He'd been hiding on the roof when he caught her. Falling through the roof, he cursed his wife, and refused to repent for his sins and died unrepentant. That was when the plague began to appear.
The following days the man was reported to be seen at night throughout the town. He visited the bedside of a lady who was told to report the events to the brothers at the monestary. People became afraid to encounter the man and began to lock themselves in their homes at night.
Then one Palm Sunday, the local priest assembled a group of devout followers and prominent citizens who went to check where this man had been buried. When his body was uncovered, he appeared to have been gorged with blood. So much so that it oozed from his body when struck with a spade. The body was then removed from the town and burned. This brought the epidemic to an end. 
4. Evidence
[
]
Eyewitness accounts only
5. Possibility of Existence
[
]
1. Not probable: There is not enough evidence to suggest that the person was the cause of the plague and a vampire. More than likely his condition in death may have been a result of decay or plague, which lead to the vampire legend.
6. Sources
[
]
Alnwick Castle Vampire - Vampire Underworld: Myths and Lore
Alnwick Castle and the Creature from the Tomb - rediscoverbritain.com
The Alnwick Castle Vampire by Jill Stefko
7. Links
[
]